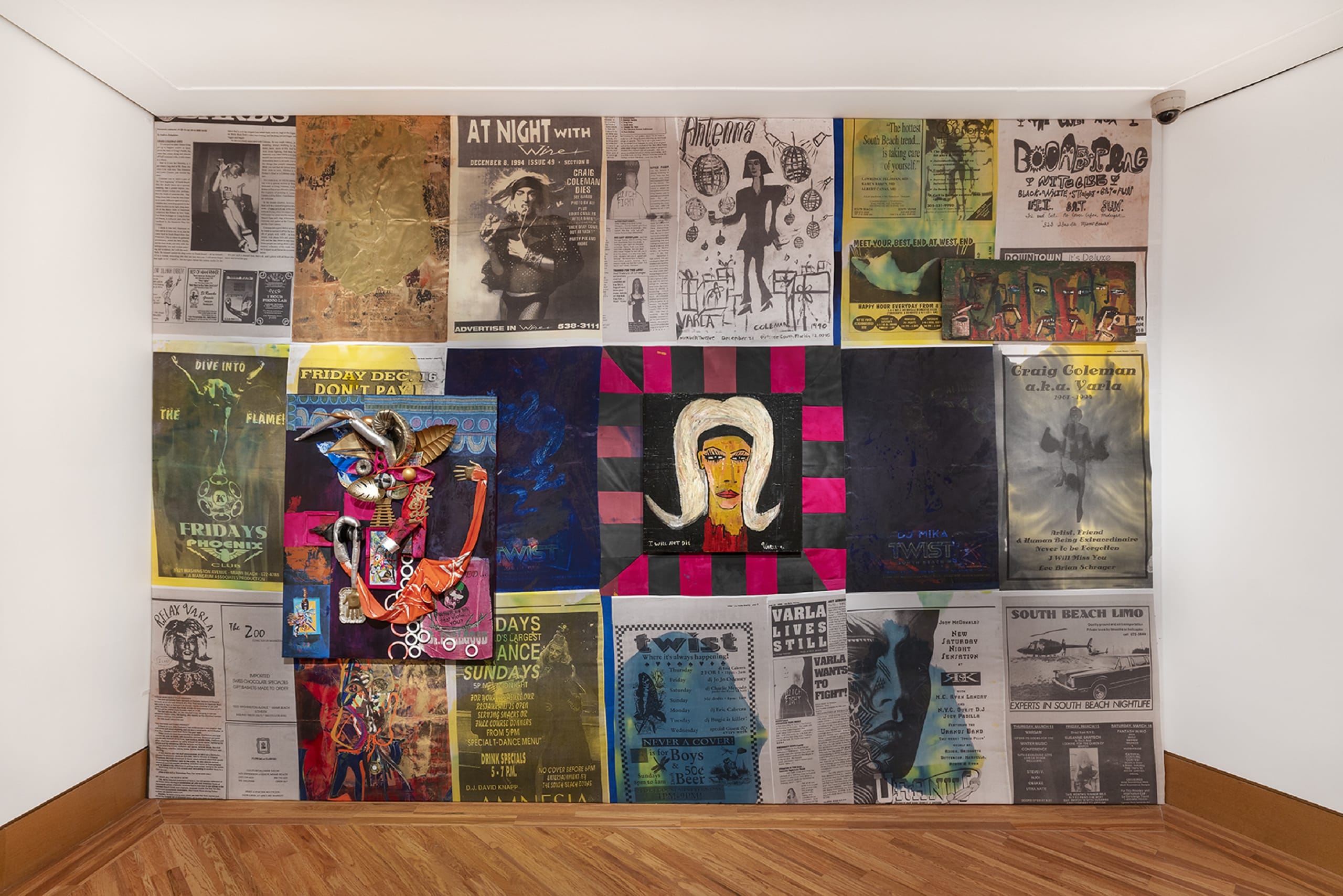 Installation
Mixed-media fabric painting installation
354.0 x 1200.0 x 373.0 (cm)
139.4 x 472.4 x 146.9 (inch)
Pepe Mar's large-scale installation Varla TV offers a celebratory tribute to the late painter Craig Coleman, who performed in drag as Varla in South Beach during the early 1990s and died from complications due to AIDS in late 1994. Mar's installation highlights Varla as a community builder and brings works by Mar and Coleman together, alongside printed and painted fabric and ephemera. Editorials, announcements about performances, and the club flyers which Varla originally created are manipulated by Mar, photographed, and printed on fabric to create this large-scale painting installation. Varla TV engages with often overlooked and de-centered histories of living within a dominant culture as a member of an under-represented class.
Pepe Mar (born 1977 in Reynosa, Mexico) uses hyperbole to present bold narratives that highlight societal pain and reveal neglected narratives. Through traditional mechanisms like historical appropriation and multidisciplinary ornamentation, Mar's works reflect vital issues of the contemporary present. He received his BFA from California College of the Arts, San Francisco, attended the Skowhegan School of Painting and Sculpture in Skowhegan, Maine, and received his MFA from Florida International University. Current solo exhibitions include a large-scale exhibition at the Mattress Factory Museum of Contemporary Art in Pittsburgh in dialogue with the archives of Greer Lankton. In 2015, the artist was awarded an Andy Warhol Foundation Wavemaker grant for his project Versus. He lives and works in Miami.
Access the Audio Guide by Magalí Arriola.